Product description
About product
Insert Rival is specially developed filling for tubeless MTB rims. It significantly improves riding properties in rough terrains. The main benefit of Insert Rival is absolute protection against punctures and damage of the rims, which can come as an aftermath of the hits they endure during riding. This insert also delivers better support and grip for the rider on every terrain or surface. Insert Rival is made from special technical foam with closed cell structure, which prevents it from soaking up the tubeless sealant. Materials are made-to-measure and combined to be flexible, durable and able to absorb a wide range of impact forces. Next significant benefit is low weight. Overall shape, dimensions and angles are designed specifically for the insert to attach tightly onto the rim. Insert Rival allows you to ride smoother, faster with more sensitive shock absorbtion and better control when riding in a rough terrain.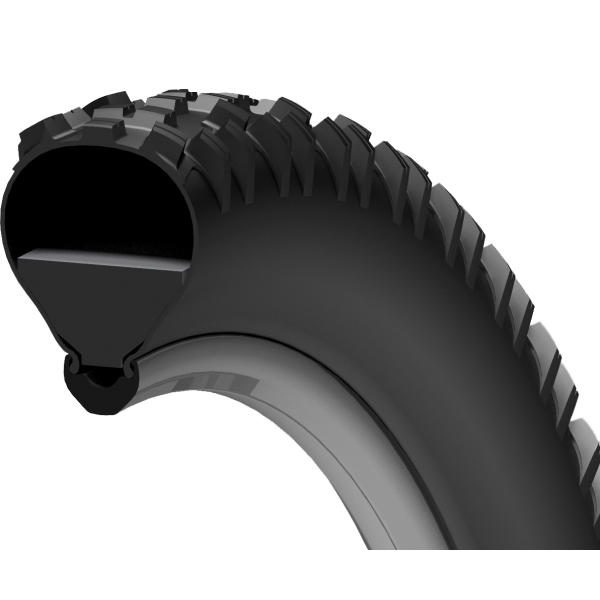 I am interested
Maximum protection against puncture
Almost perfect protection against puncture, 90% safer than riding without insert. Thanks to this, you can ride with absolute confidence in any terrain.
Shock absorption and rim protection
Insert absorb until 60% of small impacts, but mostly big sharp or blunt impacts, which is decreasing danger of damaging a rim.
Smoother and more aggressive riding
Insert is reducing shock transmission also vibrations to wheel and bike thanks to material mechanical properties. Your ride will be 25% smoother, which allows you to ride faster and aggressive!
About us
Rival's beginning
We all know the struggle. Rough terrain with rocks, roots and slippery surfaces is not easy on either the rider or the rims and wheels. Nowadays there are several refinements and inventions, that are supposed to help avoid potential punctures during a ride. However, to be hundred percent safe it's still necessary to have a spare tube or puncture tool with you (pump, wicks, adhesive set, etc.). In any case, you always must have the minimum amount of pressure in the tire needed, to return from the trail without breaking the wheels or damaging the tires. We tried solving this exact dilemma and started to test all kind of inserts which were available on the market. Some premium or more expensive inserts provided enough support, although after a short time of riding they lost their stiffness - the protection of the rim and tire was not sufficient. Other inserts were too heavy or weren´t stiff enough to provide protection inside of the wheel when tilted in turns. Some brands of inserts soaked up the tubeless sealant and got heavier. Therefore they became very difficult to mount, which also reflected in their poor reviews.
We couldn´t find any insert that made us happy, which is the reason behind our new project. After more than one year of development and testing with the best slovak DH and Enduro riders we succeeded. We made an ultralight insert that finally lives up to our expectations and meets all the necessary requirements to become number one on the market.
The support #MTB_RIVAL provides in turns is briliant. I can ride minimal tire pressures because the rim is 100% protected against damage, as well as the tire against punctures. Mounting the insert might seem complicated, but with a bit of practice everyone can do it without any stress.
The Rival has saved my rims multiple times already, however that is not its only benefit. The insert gives provides the tire with more support, which is why I can ride with lower tire pressure and get the grip I need. What´s more the mounting is really easy, when you know what you are doing. I can honestly say you will not catch me riding and racing without it.
From my point of view, the biggest benefit of the Rival is the fact that the insert doesn´t soak up the tubeless sealent. Because of that, the inner pressure of the tire is stable for a long time and you don´t need to refill it all the time – one of advantages is that the tire weighs less. The weight of the insert is an advantage as well. The Rival weighs 120 grams less than the Cushcore and softens vibrations because of its width.
Try it now

1 piece

.

45 €

including VAT

+ 1 valve included in the price

+ In stock, delivery in 5 days
Try it now

2 pieces

.

85€

including VAT

+ 2 valves included in the price

+ In stock, delivery in 5 days

Free shipping within the Slovak Republic !
Try it now

3 and more pieces

.

Rebate

If you are interested contact us via e-mail.
ARE YOU INTERESTED?
ORDER FORM

Rival Insert is designed for tubeless wheels. If you are interested in purchasing more valves (e.i. 2 pieces so your wheels match) or if you have any other request do not hesitate tell us in your order or via e-mail.